It's official! Ryan and I are now a married couple. Let the boring married life rituals commence. Just kidding. We have been having so much fun! The wedding went off without a hitch (if you don't count me almost falling on my face down the aisle because I forgot to "kick out" while walking so I wouldn't step on my dress...), the ceremony was short and sweet, the wine was delicious (or so I was told) and the dance party was the best I've ever been to, but I
may
be biased. The next day was just as much fun! Ryan, Tracy, Matt and I got up at the butt-crack of dawn the next morning to do a "trash the dress" photoshoot. For those of you who are unfamiliar with what this is, it is a photo shoot sometime after the wedding where you do something in your wedding dress that you would never dream of doing before the wedding. Most brides jump in a pool or pond or lay in the ocean. I thought we'd do something a little more unique... How about a bride on horseback? Before that day, I had never ridden a horse in a dress and I'm pretty sure my horse had never had a giant white dress on his back, but he did great! No fall-offs, no bolting, no close calls, Jack was a
very
good boy.
I wish I had professional pictures from the shoot, but it'll be another couple weeks before I get to see those, so here are some that were taken by a family member. And as a disclaimer, I almost always wear my helmet while riding, but I think that might have looked a little funny with the gown...
Pretty cool huh?
We left for our honeymoon in Puerto Vallarta, Mexico two days later. We had SO much fun. We went to Dreams Villamagna Resort in Nuevo Vallarta. It's a beautiful all inclusive resort and to be completely honest, aside from the drive to and from the airport, we never left the resort. The room was gorgeous. Unfortunately I did not take a picture of the room but it looks exactly like the picture in the ad:
Photo Copyright
Dreams Resorts
Gorgeous, right?! We pretty much just drank fruity drinks (and tequila, of course) while laying by the pool and just generally relaxing. We just so happened to be in Mexico during Mexican Independence Day, which was SO cool. Ryan and I were walking down to the pool in the morning when we saw them setting up what looked like all sorts of fun stuff. There were vendors and a pool-side authentic Mexican dinner and that's when I saw it. They were setting up a mechanical bull. I about LOST IT. I LOVE mechanical bulls! I pestered the hubs to go find out what was going on. He came back with the best news ever. A Bull riding competition. No. Way. I talked for the rest of the day about how I was going to win the competition.
After a delicious dinner and a couple tequila shots, the competition started. There were about 12 people signed up to compete. I was one of two girls. Ryan and I watched as grown man after grown man got on the bull and got dumped within about 3 seconds. Oh boy was I pumped. They called my name and I pretty much ran up to the bull and hopped on. Ryan was too busy taking pictures to count but I'm pretty sure I rode that bull for 7-9 seconds. Heck yes! It came down to me and one other girl in the finals. We both rode again and I will admit that she was some stiff competition. In the end it came down to the audience. Whomever got more applause won. Guess who that was... THAT'S RIGHT! IT WAS ME! And what did I win, you ask? Why alcohol of course! Tequila, you ask? No actually... Gin. Wait, Gin? I won a bull riding competition in Mexico and they give me a bottle of GIN?! Oh well, alcohol is alcohol!
The rest of the night consisted of partying with some other couples we met at the resort. We had the best time on our honeymoon and we have the pictures to prove it! Let the picture overload begin!
Our view from our front door.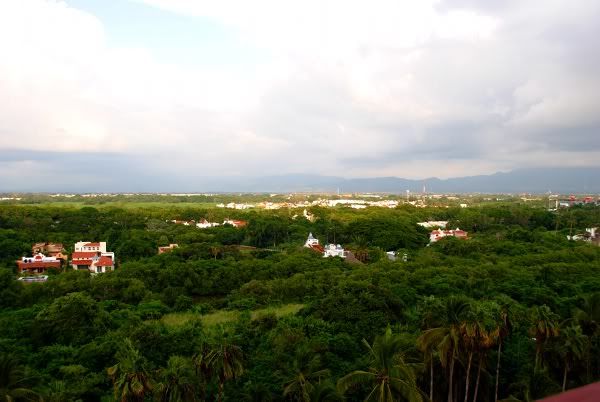 One of the 5 restaurants, Oceana.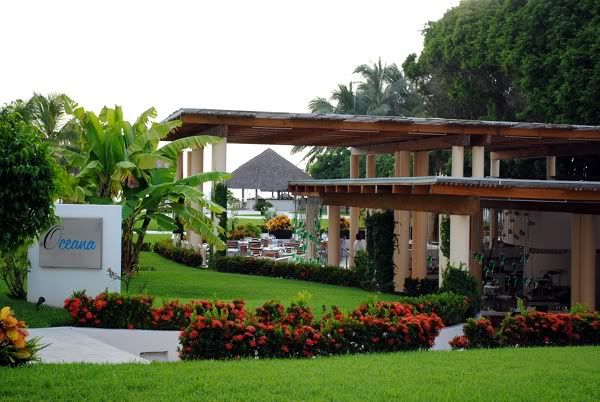 Another restaurant, World Cafe.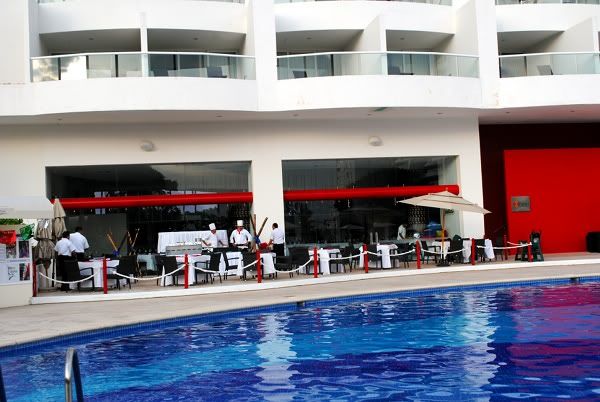 Our first evening in Mexico!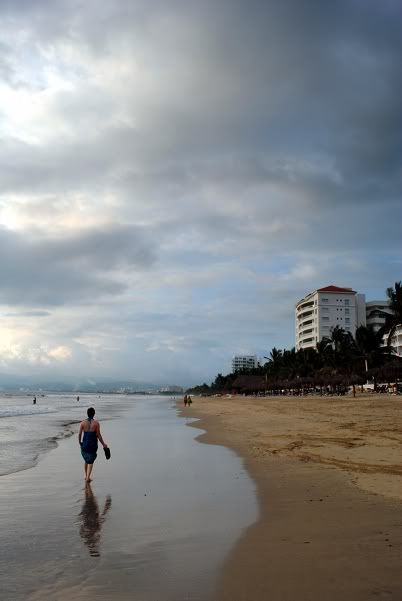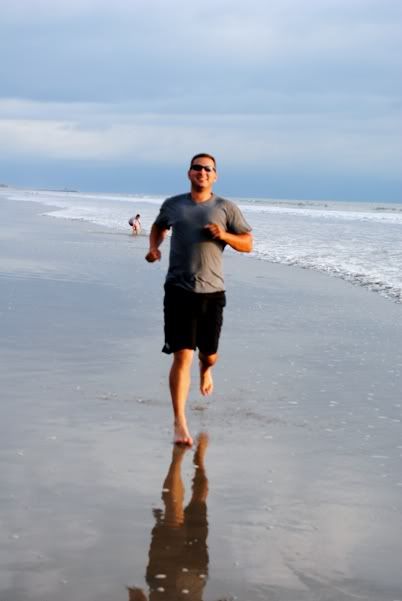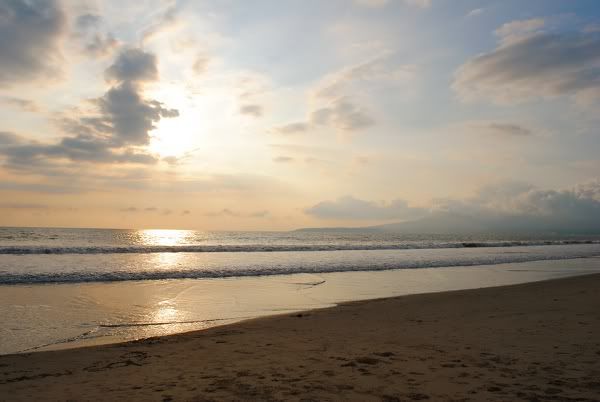 The "Mexican Flag" shot. 3 shot glasses. First was lime juice, second was tequila and third was tomato juice. YUCK. Hence the after face...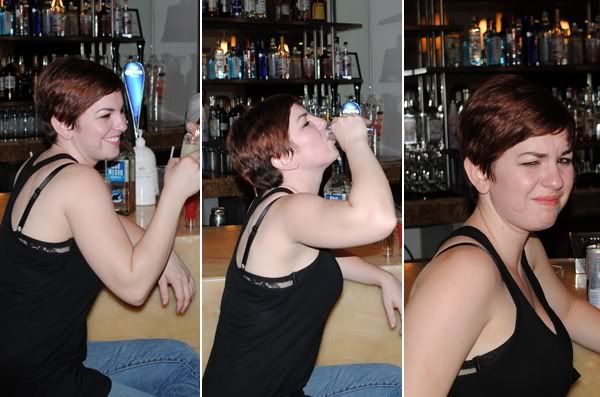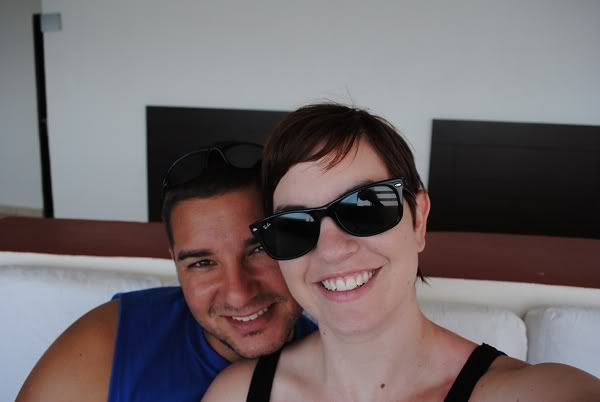 The infamous bull ride!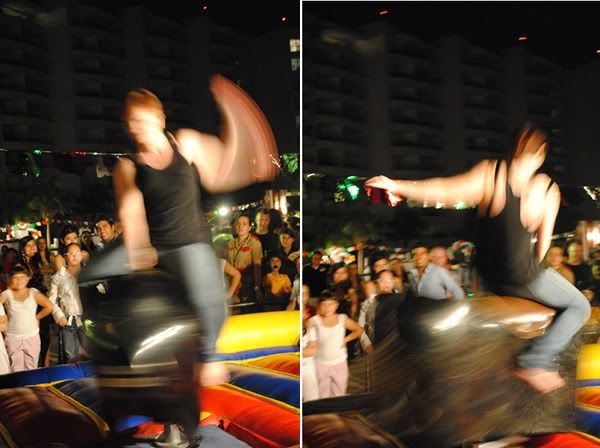 And the prized Gin...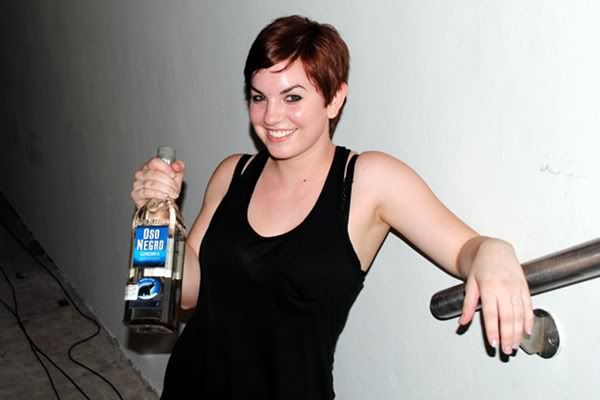 How handsome is he?! I'm so lucky!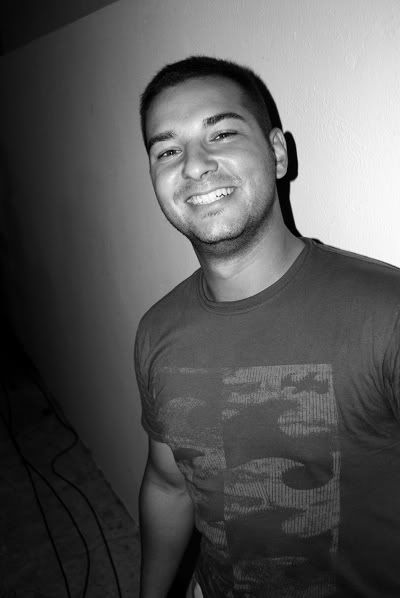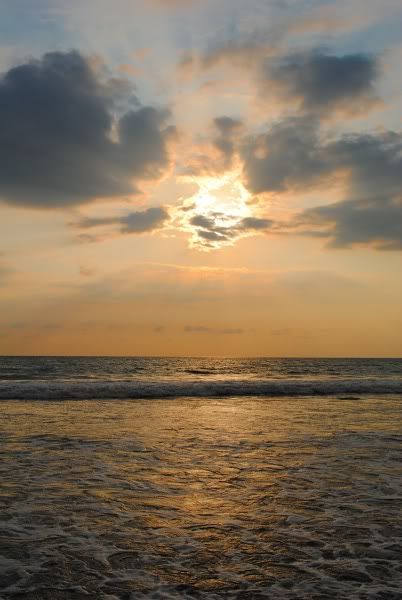 The sunset from our balcony!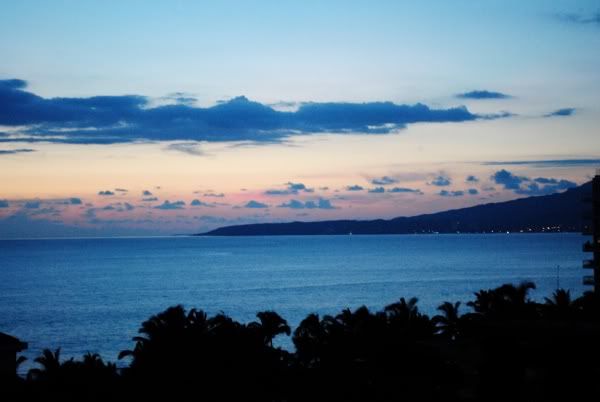 Hope you all enjoyed the pictures! See ya soon!